Glass has got intelligent. And we think it's all the better for it.
Generally used in conservatory and lantern roofs, the term "smart glass" or "intelligent glass" usually refers to the new generation of glass systems that feature additional built-in properties. This can include solar control, privacy glass and self-cleaning glass. There is now a growing demand for better performing conservatory roofing systems, both for brand new installations and for the emerging replacement sector. Glass is at the very heart of the thermal and acoustic performance of any conservatory and smart glass is not only far quieter but can also regulate temperature so your conservatory can be used all year round. It can reflect unwanted heat and glare from the sun in the summer, yet will also help to retain warmth during the winter months, and is almost three times as efficient than standard double glazing.
Smart glass can also filter out harmful UV rays and use self-cleaning technology, reducing the frequency of cleaning required and keeping your roof looking better, for longer.
TYPES OF "SMART GLASS" AVAILABLE
Pilkington Activ™
This was the world's first self-cleaning glass. It's basically the same as conventional glass, except for a unique permanent dual action coating. It works in two ways: first it uses daylight to break down organic deposits (such as dirt) and then uses rain to wash the dirt away. Pilkington Activ™ also dries faster, leaving the glass clean and with less streaks. It's an ideal solution for conservatory roofs, orangeries, glass extensions, skylights and windows in hard to reach areas. The Pilkington Activ™ range comprises of several different types of self-cleaning glass:
Pilkington Activ™ Clear – self-cleaning glass.
Pilkington Activ™ Bronze – a tinted self-cleaning glass that combines self-cleaning with solar control.
Pilkington Activ™ Blue – a tinted self-cleaning glass that combines self-cleaning with medium solar control.
Pilkington Activ SunShade™ Neutral – a coloured glass that combines self-cleaning with superior solar control.
Pilkington Activ SunShade™ Blue – an attractive blue tinted glass that combines self-cleaning with superior solar control.
Check out the Pilkington Activ brochure on our website here >>
Dynamic SMARTGLASS®
This is an exciting new product by Clayton Glass – the industry's first automatically self-tinting, glass technology for conservatories, orangeries and lantern roofs. In the middle of summer SMARTGLASS® Dynamic will change from a clear state in the morning to a darker blue one during the day, where solar control and light shading is needed most. Then as the unit cools, it will return to clear at the end of the day and into the night. (This reminds us a bit of those reactions lenses you can have in your glasses!). At all other times of the day and season this glass will offer various semi-tinted states, dependant upon the surface temperature of the glass. In its clear state, this glass offers a similar light transmission to a standard clear glass unit.

SWITCHABLE PRIVACY GLASS
Almost like magic, this glass can turn from clear to opaque instantly. Truly the stuff of "Grand Designs", switchable glass is operated by a simple electrical switch, controlling the opacity of the glass from clear to translucent. The opacity is down to a special Polymer Dispersed Liquid Crystal (PDLC) film which includes conductive interlayers and allows you to change the visual appearance of the glass at the flick of a switch.  The latest generation of switchable double glazed smart glass windows combines the benefits of improved thermal performance with the immediate control over privacy and security. The PDLC can be applied to any type or thickness of glass including toughened, laminated and double glazed sealed units, offering a number of glazing solutions for both the domestic and commercial markets.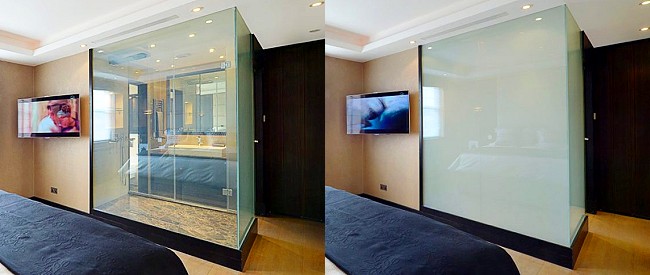 SOLAR CONTROL GLASS
Excess heat and glare caused by the sun can be a major source of discomfort in some indoor environments, especially those with glass roofs, conservatories or with large glazed areas. The latest solutions for solar control reflect and filter the sun's rays, allowing natural daylight into the room, but without uncomfortable visual glare. Rooms can be kept cooler during sunny periods, reducing the need for air-conditioning. A range of solar control glass solutions are available, from a number of trusted manufacturers such as St Gobain, Pilkington and Reflex.
Solar control glass can be incorporated into double glazing window with combinations of other glass, such as self cleaning, Low E and decorative glass. Combining solar control glass with Low E thermal insulation in one double glazed unit offers optimum temperature comfort all year round.
Talk to us about the different glazing options that are now available for your home. We hope to see you very soon! 🙂