Re-invent your existing conservatory with one of our super fully insulated solid roofs by market leader Guardian.
THE PROBLEM
If you already have a conservatory, you'll know how the outside temperature and weather conditions can effect the overall comfort of your room and how it's used. If you've inherited an older conservatory through a house move for example, you may find that it's an unusable space during the winter or hot summer spells. A common remark we hear is that "my conservatory is too hot during the summer and far too cold in winter." A new Guardian Warm Roof could therefore be the perfect solution for you.
THE SOLUTION
The Guardian Warm Roof is a revolutionary step forward in home improvement – a high performance, lightweight roof system that has been designed to replace your existing glass or polycarbonate roof or be installed as an alternative on your new conservatory.
Fully tested and approved to all thermal and structural standards, the Guardian roof is a high performance insulated roof system comprising of a pre-engineered lightweight frame, two layers of rigid insulation board, internal insulated plasterboard, exterior grade plywood and a vapour membrane. Altogether this creates a more thermally efficient living space than your existing conservatory, keeping the warm air out in the summer and preventing the heat from escaping in the winter.
The solid roof will help you to maintain a consistent interior temperature.
Your room will be quiet and comfortable all year round.
Your new room can now be fully integrated into your ground floor living area.
It will give you the extra space you have always wanted.
Designed to retain the conservatory's original windows, doors, frames and walls, the Guardian Warm Roof System is fully tested and approved to all thermal and structural standards.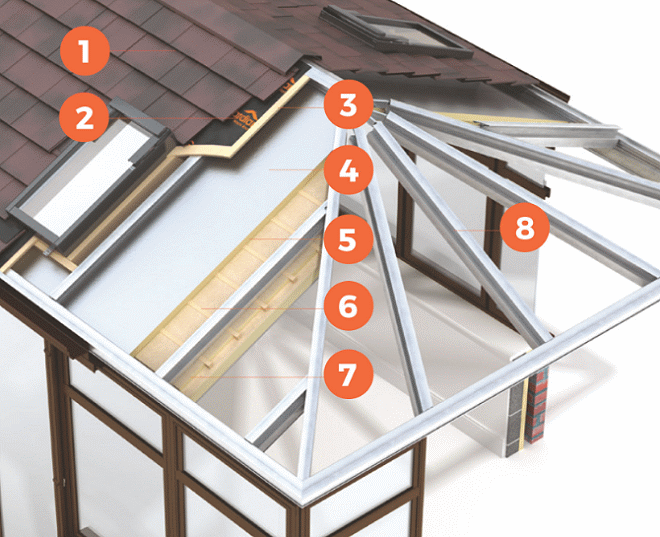 By removing your old conservatory roof and replacing it with a new insulated tiled roof, you'll completely change the appearance of the rear of your home and garden. Now your conservatory will more closely resemble a proper extension and by choosing tiles that match your house you'll be getting all the benefits of a ground floor extension along with the convenience and style of a conservatory.
If you'd like more details about the Guardian Warm Roof system and how you could transform your existing conservatory, download our PDF brochure here >> or contact us to discuss your requirements in more detail. We're here to help! 🙂